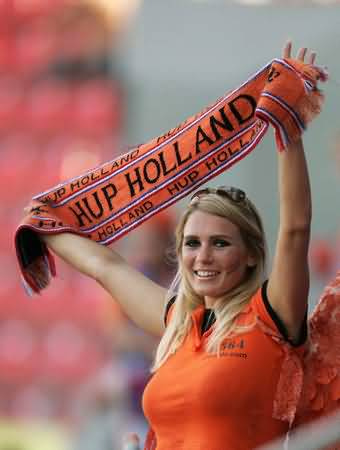 So the opening weekend at the World Cup is finished, and I'm set to make some predictions for my main boys,
Oranje.
But before I get to that, I'd like to share some observations on the opening weekend.
There's been some terrific play, and the opening game between South Africa and Mexico was riveting entertainment. Most impressive performance? Germany, predictably. And Argentina were quite impressive as well. Least impressive? Greece. Good grief how did they manage to get through their qualifiers? They are completely out of their depth...
US vs England? Meh. US enjoyed brilliant good luck at
the expense of the England keeper
, and then were unlucky to not score on Altidore's effort in the late stages. England, as often happens, just didn't seem to bring any joy, looking like they were carrying an unnatural weight. This happens to them quite a bit, as if the expectations of the last 44 years have left them unable to find happiness on a soccer field.
My opening weekend dark horse to take a run at the final 8? South Korea. Not saying they'll do that, just saying don't be surprised if they do. Then again they were playing the hapless Greeks, so maybe it's a hasty assessment. But still...
So Holland starts tomorrow. I was set to predict a deep run for the Dutch, but it wasn't going to be easy. If they win their group (quite likely) and Brazil win their group (hugely likely), the stage would be be set for a Holland vs Brazil quarter final after both dispatch their round of 16 opponents (Paraguay & Chile in all likelihood). If ever there is a year the Dutch could overcome Brazil, its now. Except
Holland's best player
(arguably)
had a slight mishap
on the way to South Africa. He's allegedly recovering ahead of schedule, but these hamstring injuries can linger quite a while and can come back with a vengence on any turn or burst of speed.
So I need to hedge my prediction somewhat. Without Robben, Holland crash out to Brazil in the quarterfinal in what will be the match of tournament. With Robben 100% fit and unaffected, they get past Brazil and advance to the final.
You read it here first.